When you talk, do not say harmful things, but say what people need—words that will help others become stronger. Then what you say will do good to those who listen to you. Ephesians 4:29 NCV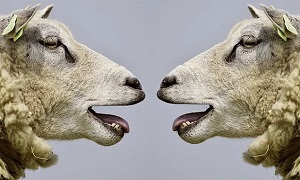 When we kids were cruel to each other, my seventh-grade teacher would ask, "Is it kind, is it true, or is it necessary?"
When we lightheartedly tease other people, we can hurt them. One day, a woman I worked with commented about my brain. I don't think she meant to hurt me, but the way she said it made me feel as though I was dumb. Her comment hurt because I had learning disabilities as a child, and the kids picked on me. For me to talk about my brain was difficult and devastating.
I sing in a men's choir, which also includes women with low voices. As usual, one Sunday I dressed up for the services. A woman in the choir sarcastically commented, "You actually can dress nice." The way she phrased it hurt. She could have said, "You look sharp today." Instead of being offended, I would have felt good about myself.
When you talk, do not say harmful things, but say what people need—words that will help others become stronger. Then what you say will do good to those who listen to you.This verse tells us not to say harmful things. We should want to help people become stronger and encourage them through the words we say, not discourage them and make them feel bad about themselves. We need to build others up, not tear them down.
Are your words kind, true, or necessary?
(Photo courtesy of pixabay.)
(For more devotions, visit Christian Devotions.)
---
---