As He (Jesus) passed along He noticed a man blind from his birth. John 9:1 AMPC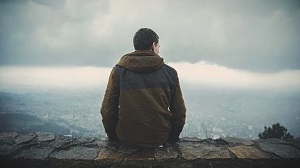 I confess ... I often race through the day.
Often, I don't look up long enough to see the faces of those Jesus has placed in my path. Regular folks, walking out their own blind-from-birth trials who just need to be noticed. So busy with my life and schedule that I neglect God's schedule and His purposes for me.
Jesus noticed a man as He walked along the dusty roads of His world. A lonely beggar described as "blind from his birth."
I'm immediately struck by two points. First, Jesus noticed the man in the first place. Didn't He have important people to see and places to go? Didn't the Savior have a Jerusalem daily planner to follow, demons to cast out, or seas to calm?
Second, though this man was challenged by his blindness-from-birth condition and though he was close enough for Jesus to see him, the man remained silent as the Healer walked by. We read nothing of him calling out to Jesus for help. If I were in his shoes, I imagine I would have yelled, pleaded, or begged for Jesus' attention. Yet he remained silent until Jesus pressed the issue.
Perhaps the blind man's silence speaks loudly of one who couldn't bear the possibility of another disappointment. Another emotional roller coaster of dashed hopes. Or maybe he had grown so accustomed and comfortable in his pain that he no longer pursued healing. His pain had become so normal that he settled into it like an old chair. If so, Jesus put His finger on the comfort zone of this man's painful normalcy and offered him deliverance.
Our Lord takes the time to notice us. To even seek us out when we don't have the good sense to cry out. He comes to us in all our brokenness—pursuing us, loving us, and putting His finger on our blind-from-birth condition as He initiates the longing for authentic healing and wholeness.
Have you considered that Jesus notices you?
(Photo courtesy of pixabay.)
(For more devotions, visit Christian Devotions.)
---
---