The angel of the Lord encamps around those who fear him, and he delivers them. Psalm 34:7 NIV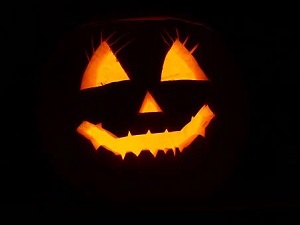 Hate is a gentle word! Or at least it was and still is for my feelings on the scariest day of the year.
I've never liked Halloween. Even as a child, I dreaded walking through Roses with my mother and seeing the multitude of bloody, scary costumes hanging in the front of the store. I wasn't fond of Casper the friendly ghost either.
My mother always encouraged me to make a fun costume, and on Halloween night, she and her best friend walked us kids around the neighborhood. Despite the candy, I still hated Halloween. It didn't help that our backyard backed up to the local cemetery. Although we played there during the day, I feared the nights.
One Halloween, Mom and her friend walked us to a dear lady's home who prided herself in making the best popcorn balls in the world. I remember most that with each popcorn ball she distributed, she attached Psalm 34:7 to the stick.
I remember knocking on the door and Mrs. P kneeling, handing me a popcorn ball, and hugging me. "Little one, never fear this night, for the Lord surrounds you. You are safe."
Being a shepherd had its joys, but it also had devasting dangers, especially when night fell and predators sleeked out of hiding to hunt. The shepherd's job was to keep his sheep safe from all the evil that lurked in the weeds. There were times, their own lives grew endangered as they protected their flocks, but they were steadfast in their care. The sheep were calm because they trusted the care of their shepherd.
How often do we forget that God surrounds us with His love and protection, and I wonder why? His desire for us is to trust in His protection. As our Father, our Shepherd, God never leaves us. He cares for His children. He is steadfast in His care, and that is a true comfort for us.
I don't suppose I will ever like Halloween. Despite the cute costumes, it still leaves me uneasy, but as I have grown into an adult, I've learned that God surrounds me daily in His protection. I am safe.
Turn your fear into trust. Offer it up to the Father, the Shepherd, who watches over you daily.
(Photo courtesy of pixabay.)
(For more devotions, visit Christian Devotions.)
---
---