Then Aaron's sons are to burn it on the altar on top of the burnt offering that is lying on the burning wood; it is a food offering, an aroma pleasing to the Lord. Leviticus 3:5 NIV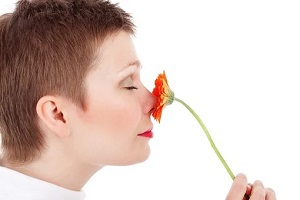 We walked into the house carrying several bags from our quick trip to the store.
Smells of garlic and onion met us, reminders of the dinner we had eaten a few hours earlier. What had smelled delicious as we prepared and ate our food seemed to have multiplied in strength. Now, instead of making my mouth water in anticipation, the smells overpowered my senses.
The things we associate with scents can be personal. A smell can remind us of past events, resurrecting memories ranging from cooking for family celebrations to being enveloped in a loved one's hug to walking past a neighbor's flower garden as a child. Our memories tied to some of these smells can bring a nostalgic smile to our face and warmth to our heart. Others are painful and make our eyes sting with unshed tears.
Either way, our reactions are personal. What might smell wonderful to us might smell terrible to someone else. Sometimes our dislike stems from those memories.
The Bible mentions fragrances or aromas numerous times in connection with offerings. Some aromas are sweet fragrances that please God because of the offering they represent. Other aromas offend God, especially those associated with offerings to false gods or offerings given with impure intentions.
The smells from some offerings to God can be better described as offensive or suffocating fumes rather than pleasing fragrances.
Although we no longer burn offerings before God, we're constantly presenting ourselves to Him through our words, thoughts, and actions. The question is whether the things we're bringing to God are acceptable, sweet-smelling sacrifices or obnoxious fumes that offend.
Ask God to show you how to live so that all your offerings are acceptable gifts to Him.
(Photo courtesy of pixabay.)
(For more devotions, visit Christian Devotions.)
---
---