In the same way, faith by itself, if it is not accompanied by action, is dead. James 2:17 NIV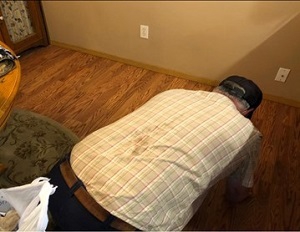 My retired parents once took both of my dogs—one very large and elderly eighty-five-pound yellow Labrador and one small but energetic Cockapoo puppy—to the groomer because my single-mom-full-time-work-and-child-uber schedule would not allow me to do so.
After my parents dropped the furry children off, they stopped by my house on their way home. My sweet father got down on his hands and knees, removed my elderly dog's crate, took it to the backyard, hosed it down, scrubbed the floor, and laid a blanket under her crate to ensure a bit more comfort for my elderly Labrador in her golden years.
Mom sent me a picture of his selfless act because Dad would never mention this act of service. This is not uncommon for my father. He spends his days sharing homegrown produce with others, mowing elderly ladies' yards, shuttling folks to and from appointments and church get-togethers, and researching healthcare, homecare, vacation, vehicle, and a myriad of other random options to make his family and friends' lives easier.
My dad is a pillar of selfless love—the closest earthly representation I have ever witnessed of how I envision Jesus' all-encompassing love.
I don't properly convey how thankful I am for this man—not only because he has always taken utmost care of his family, but also because he daily exemplifies a legacy of love to those around him. If my sons grow up to be half the man their Pops is, I know they will touch the world with blessings.
Random acts of kindness such as this go a long way to show Christ's love toward others. A simple word of encouragement to someone having a difficult day, a hand-written thank-you note, a homemade meal for a family going through health issues, or offering to listen while a friend vents about a stressful situation are all ways we can show Jesus' love. Jesus says our servanthood toward others is directly linked to serving Him.
So polish up those kindness trackers and do what God has called you to do: share His love with others one small step of kindness at a time.
(Photo courtesy of author.)
(For more devotions, visit Christian Devotions.)
---
---