For everyone who asks receives; the one who seeks finds; and to the one who knocks, the door will be opened. Matthew 7:8 NIV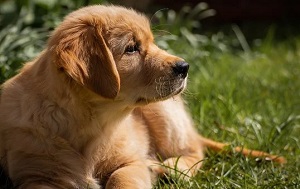 We've been pranked by Prancer.
Indeed, the supposed "man's best friend" in our house isn't living up to her name. The name of her breed, that is. We chose our pup because we had fourteen wonderful years with another of her kind, a Golden Retriever we fondly named Annabelle. Those years passed too quickly, and we were sad when the time came to say goodbye.
Honestly, we weren't anticipating loving another dog so soon, but Prancer came to us the following Christmas, filling a hurting place in our hearts. Then she tricked us. It seems she's not much of a Golden Retriever after all but, rather, a Golden Receiver, and she's perfectly content with this.
Whether waiting to receive a dropped morsel from the table, waiting to receive a scratch behind her ears, or waiting to receive the command, "Let's walk!" our pup is truly more receiver than retriever.
I suppose there's a lesson we should learn from our Golden Girl. In truth, many of us find it difficult to receive. Whether due to pride, fear of rejection, embarrassment, or not wanting to impose, we often turn others down, even when they are eager, willing, and able to help.
Jesus reminds us that He's waiting for us to pursue Him—that we might know Him and His will better and that we might receive the pleasure of a personal relationship with Him. He lovingly instructs us, "Ask, seek, knock," so we might receive this precious promise.
Perhaps I need to retrieve the Good Book and read to be reminded of the importance of receiving. I can almost hear God's gentle command: "Fetch … Sit … Stay!"
In God's presence, we learn the value of being both a gracious retriever and receiver—discovering the perfect plans and purposes God has in store for His glory and the good of others.
Is it easier for you to retrieve or receive? Start by staying awhile in the Master's presence. After all, don't you want to be His best friend, just as our Golden Receiver longs to be ours?
(Photo courtesy of pixabay.)
(For more devotions, visit Christian Devotions.)
---
---