For no one can lay any foundation other than the one already laid, which is Jesus Christ. 1 Corinthians 3:11 NIV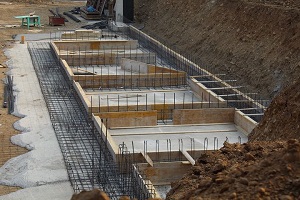 Gene was a good handyman, so when he decided to build a small storage shed, his wife thought it was a good idea.
However, Gene decided he wouldn't make a foundation for the building so he could build it faster. The shed looked good at first. It was sturdy and well-built. Not having a firm foundation didn't seem to affect the shed for several years. Then the door became hard to open because the building sagged just enough to cause the door to drag on the ground.
Over time, it became evident the shed was sinking and shifting to one side. Years later, the building was noticeably lower on the right side. Gene may have saved time, but the leaning shed bore evidence that it had been built on sinking sand.
Jesus had something to say about how we build our houses—and not only our houses but also, and more importantly, our lives. He told His listeners that those who heard and obeyed His commands were also people who built their lives on a rock.
The only firm foundation Christians can build upon is Jesus Christ. Some people build their lives' foundations on possessions. They believe if they have a beautiful home, an expensive vehicle, or some other treasure, then they will be content. There isn't anything wrong with these goals, but when people fail to reach them, their foundation may begin to crumble around them.
We can choose to build our foundations on things that will not last or satisfy, or we can build upon the rock of Jesus' love and salvation. Building upon Jesus assures a firm foundation.
Have you chosen to build your life upon the firm foundation of Jesus Christ?
(Photo courtesy of pixabay.)
(For more devotions, visit Christian Devotions.)
---
---