As the deer pants for the water brooks, So pants my soul for You, O God. Psalm 42:1 NKJV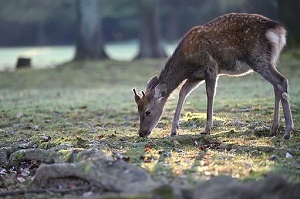 My husband loves to hunt deer.
He loves the quietness of the woods in the early morning hours and breathing in the cool crisp morning air. What he loves, even more, is seeing that beautiful creature through the scope of his gun and hearing the BOOM as he pulls the trigger.
As the deer pants for the water brooks, So pants my soul for You, O God. When we first read this verse, the image is that of a graceful doe or perhaps a massive buck slowly lapping the cool water from a flowing brook. As we read the verses that follow, we realize there is much more to see. In Hebrew, the words pant and long for also mean "to cry out." The deer pants when it desperately needs water—as when it has been running from the BOOM of a hunter's gun or has struggled through the scorching heat of a summer day.
Like the deer, the words in this passage reflect the heart of the psalmist. He is not only running from his enemies but also struggling with his doubts and fears.
We too face struggles—internal and external—that leave us panting, longing for, and crying out to the Lord. While on earth, we face financial difficulties, relational conflicts, health issues, and the loss of loved ones.
When we find ourselves in life's trials, we can learn a valuable lesson from the psalmist. We can encourage our souls by shifting our focus to our Living Water. When we fill our hearts and mouths with praise, we find real hope. It is in His presence, as we give praise to Him, He will quench our thirst, and we will find hope that restores our souls.
If you find yourself in a situation that leaves you panting for Living Water, don't waste another moment. Shift your focus from the struggle to Jesus. Remember His faithfulness to you, and dwell upon His character. He is merciful, gracious, loving, and kind.
(Photo courtesy of pixabay.)
(For more devotions, visit Christian Devotions.)
---
---