Rejoice always, pray without ceasing, give thanks in all circumstances; for this is the will of God in Christ Jesus for you. 1 Thessalonians 5:16-18 ESV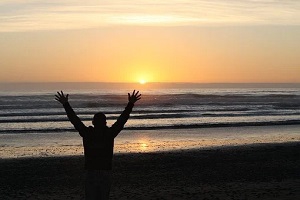 We sang it every Sunday morning in Bible school. Between this song and "He Owns the Cattle on a Thousand Hills," I thought I would die.
"Rejoice in the Lord Always." I had no idea it was a song from scripture or that singing it would help me as I grew. But it did.
As I grew into a young adult, I faced the same things others faced. Would I participate in the drinking games my friends played, or would I give up my virginity in an ungodly manner? Fortunately, the response was no to both. I had no idea what saying no would mean.
My friends labeled me a goody-two-shoes, a coward, and a church girl. My mother reminded me, "Doing the right thing will land you at your locker alone more than with someone." She was right. I grew to hate high school, but I never questioned my saying no because I saw my friend's consequences of saying yes.
I remember a friend who called me to pick her up at a party. I held her hair as she vomited from drinking. In the back of my mind, I heard that little song, "Rejoice in the Lord Always." I loaded her into my car and drove her home because her boyfriend was too drunk to drive. The next day she laughed at me because I didn't join in the fun.
When I sat holding my two babies, praying God would get me through the day so I could escape an alcoholic husband, once again, I heard the song. When I divorced and was penniless and carless, it gave me strength.
Paul suffered through much: beatings, prison, starvation, shipwrecks, the elements. Yet, he looked to heaven in every circumstance and gave thanks. He reminded the people of the command in this and the great value of it in their lives. Be grateful in everything, be it good or bad, for it is the will of God.
It's funny how a childhood Sunday school song dug deeply into my heart and found its way out when I needed it most. While my children are now grown, and I am thirty-five years married, rarely does a day pass that I don't recall and repeat that song and scripture.
This Thanksgiving, rejoice and give thanks for the Lord is faithful in your life. May your Thanksgiving be filled with rejoicing.
(Photo courtesy of pixabay.)
(For more devotions, visit Christian Devotions.)
---
---