He is before all things, and in him all things hold together. Colossians 1:17 NIV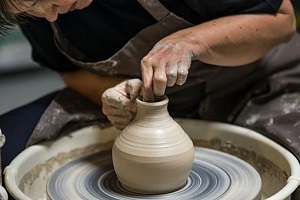 My life felt as if I were on a potter's wheel, spinning out of control, messy clay flying in all directions.
Desperately, I tried to hold things together, feeling like an utter failure. Then I read this verse, and it spoke to my heart: He is before all things, and in Him all things hold together. He who holds the entire universe together, who brought order from chaos, has no difficulty holding me together and bringing order from the chaos of my inner world.
I pictured loving hands surrounding the lump of clay that was me. Spinning on the Potter's wheel, I hadn't been abandoned. I didn't have to hold everything together by myself. I could see that God was confidently holding all my parts and pieces. Even as I spun, He formed and shaped me. Not put off by my mess, He tenderly and lovingly used those things I struggled with to mold me into a useful vessel. Hope filled me.
I could almost hear the Lord saying, "Ah, yes, I'll push a bit here, slide that along there, and squeeze just a little. Yes, that should do it. Beautiful!"
As I filled my mind and heart with the Word of God, I saw myself change into someone anchored in Scripture, turning there more frequently to find words of life and direction. The more I yielded to God's ways, the more I learned to trust that He has good plans for me and that He will use the difficulties I face for my good and the good of others.
For me, discovering the depth of God's love was a game-changer. Joy became my companion, and I spun in delight, not panic. Spinning with joy in His hands, I was filled with His life and light as He shaped me from a mess to a work of art. Such is our Redeemer's touch.
Do you feel as if life is spinning out of control? Trust God. Lean on Him. He's got you.
(Photo courtesy of pixabay.)
(For more devotions, visit Christian Devotions.)
---
---