But those things which proceed out of the mouth come from the heart, and they defile a man. Matthew 15:18 NKJV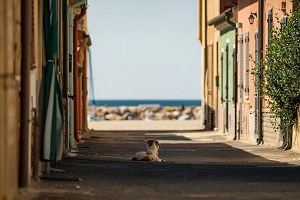 November 2021, and the New Orleans area found itself recuperating again from storm damage.
This time it wasn't high hurricane winds, but storm surge. The storm inundated the flat terrain with six feet of water, putting it level with the top of most first-story windows. Imagine the devastation. It took six weeks for the water to recede and houses to become available for repair. Then imagine the mess.
Ugly stains from all kinds of contaminants discolored everything. What was once a pristine white concrete sidewalk turned into a multicolored mosaic of black, brown, gray, and orange. Although colored and littered with trash, the sidewalk retained a solid footing with no cracks or voids. The sidewalk is like many people's lives.
The Pharisees questioned the disciples about why they didn't wash their hands and follow the tradition of their elders? Jesus explained to His disciples that food taken in doesn't defile a person because it is digested and expelled. Rather, it's the words we speak from our hearts that defile us.
The world contributes the trash, and we can take it in. What we read, what we watch, and what we participate in can discolor our appearance. We're defiled on the outside but still a creation of God on the inside. The primary issue isn't what we're exposed to but how we react and respond.
If we respond to the world with a filthy mouth, it comes from the heart, not our exterior. All the trash accumulated on the outside doesn't have to negatively influence our talk or our relationship with others. We may do the work of demolition and restoration in a church suffering from a storm surge, but it's our words that encourage our heart and the hope of those we come to help.
I have often thought of this sidewalk since the last storm happened. I look at my judgment of others and my responses to worldly appearances. I have a lot to work on. What about you?
Are you reflecting Christ to others?
(Photo courtesy of pixabay.)
(For more devotions, visit Christian Devotions.)
---
---