All things come alike to all: there is one event to the righteous, and to the wicked. Ecclesiastes 9:2 KJV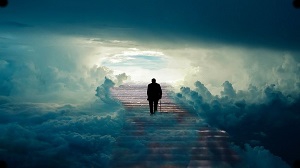 An event is defined as "a thing which arrives, occurs, happens, or takes place on an occasion."
A funeral is an event. I attended the funeral of my father and mother. They were not there. None of us attend our own funeral. But I knew I would see them again at my death or the Rapture.
We should view death as an event that occurs at an appointed time rather than the final event that ends our existence. All of us know we will die. Sadly, most of us prepare for death as if it were the end of our existence, rather than the event that ends life here and begins life in eternity.
We schedule events and set aside time to attend them. But death is the one event we do not schedule. God appoints it. Death is a condition for existence. It is the portal we go through in which we leave the here and enter the hereafter.
Death is the one event that makes eternity a reality. Death opens our eyes and makes us glad we did believe in Christ or regretful that we didn't. Death does not terminate life but continues it in a whole new environment, good or bad. Death strips us of everything this world gave us and leaves us with nothing but our character.
For Christians, the day we die is the best day of our lives because we are ushered into the presence of Jesus. For the unsaved, the day is the worst day.
One of the most powerful things that shapes our lives is how we look at death. We can see it as an end or just an event. For believers, death is an event. Meeting Jesus after our death is our impetus for holy living.
Believe what the Bible says about death. Then prepare for the event and for what comes afterward.
(Photo courtesy of pixabay.)
(For more devotions, visit Christian Devotions.)
---
---