Rejoice always; pray without ceasing; in everything give thanks, for this is God's will for you in Christ Jesus. 1 Thessalonians 5:16-18 NASB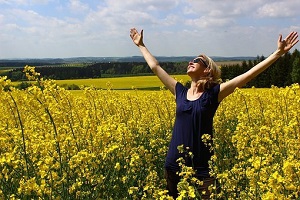 From attitudes grow behaviors.
Many health benefits come from positive attitudes, and many harmful results arise from negative attitudes. An example of the positive effect is found in thankfulness, which promotes friendship and the desire to share. The contrast is criticism and its effects on relationships, such as withdrawal and defensiveness. Relationships grow from attitudes, and from gratitude grows love.
The importance of attitudes is found in a parent's attitude about their babies. Some first-time parents feel a new little one is primarily a responsibility and hindrance to their freedom. From this attitude grows the behavior of calling the little one such names as "Rug Rat." Sadly, little ones are literal and believe their parents' negative attitudes. The baby soon feels repulsive to his or her parents and, consequentially, the rest of the world.
The parents that raise their children with a consistent attitude of thankfulness and gratitude for the divine gift their children represent produce children with positive feelings about themselves. A gratitude attitude is one of life's most important emotions for us and our families.
This principle gives rise to the following questions: "Are we grateful for our husband or wife? Are we grateful for the journey God has chosen for us to walk toward heaven's door, even if it is hard and seems impossible at times? Are we grateful for whoever our children marry?"
When the heavenly Father tells us the interaction of "all things" results in greater effects for good for those who love Him than do the effects of individual items, we should believe His promise with gratitude. We must believe our heavenly Father sees the whole picture and is beneficially in control.
A way to understand the importance of gratitude is to imagine having no spouse, children, family, or friends. The lack of gratitude naturally grows into a spirit of bitterness, which contributes to losing our key relationships. We then learn the hard way that in a life without family and friends, despite their imperfections, we have nothing.
Let an attitude of gratitude change your life for the better, both with God and man.
(Photo courtesy of pixabay.)
(For more devotions, visit Christian Devotions.)
---
---