And He is the radiance of His glory and the exact representation of His nature and upholds all things by the word of His power. Hebrews 1:3 NASB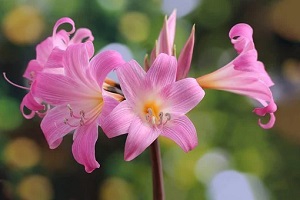 As the Maundy Thursday service at our church ended, we departed in shadowy silence.
Since the next day was Good Friday, the traditional day of our Savior's death, the church went into mourning. Those of us in the choir were silent as we hung our robes in an adjacent room and filed out. As I left, I noticed that the closed door of the classroom across the hall bore a placard that read: Please do not enter. Lilies are blooming for Easter.
And on Sunday morning they had. A dozen lined the altar rail, their white bell blossoms flaring open. I knew that after the service they would be distributed to shut-ins in the congregation.
The blooming lilies provide a notable image of the first Easter. As the lilies sat temporarily in darkness before they could bloom, so did the disciples briefly brood in melancholy and fear as they coped with the reality of Jesus' death and then waited for the brightness of His resurrection.
Sometimes, it's the same in my life. Like the disciples, I often wallow in the murky misery of uncertainty over my problems, unsure of when—if ever—I will feel the light of God's presence. But I know that despite how I feel, God is working behind the scenes, and in the proper time and place, He will reveal His glorious purposes.
Often, only after the light is restored, do we realize and appreciate the glory of God. For without the darkness of death, there would not be the light of the resurrection.
If you are immersed in the darkness of adversity, remember that often there has to be gloom before there can be glory.
(Photo courtesy of pixabay.)
(For more devotions, visit Christian Devotions.)
---
---