After Jesus was born in Bethlehem in Judea, during the time of King Herod, Magi from the east came to Jerusalem and asked, "Where is the one who has been born king of the Jews? We saw his star when it rose and have come to worship him." Matthew 2:1-2 NIV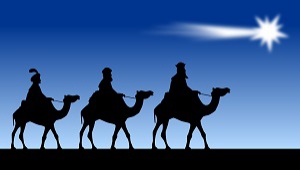 While nearly all Christmas Nativity scenes picture the "We Three Kings of Orient are…" hanging out with Mary and Joseph and the infant Jesus in Bethlehem, this isn't true.
Not to say there weren't kings or Magi at the birth of Jesus. There could have been. I wasn't there, so I wouldn't know. But the three kings of history didn't show up until later in the story—not in Bethlehem, but at Joseph and Mary's house in Nazareth.
Jesus was nearly two years old when the Magi finally found him by following the star. The Star went before them, leading them. And it led them to Nazareth. This wasn't a natural comet, star, or planetary alignment. They don't move like that. It was not a natural phenomenon; it was spiritual.
Now the Magi did bring gifts. Oh yes, they brought gifts. Perhaps a better word would be "treasure." A whole storehouse of treasure. And what did they bring? Gold, a lot of gold. The Greek word for gold that Matthew uses is "chrusos," plural, meaning many gifts of gold, profound wealth. In fact, millions of dollars' worth of gold, which was the custom of the day to honor a new king. And they were seeking the King of Kings, so we can be pretty sure what they brought was a magnificent sum.
They also brought frankincense, which just so happened to be the chief fragrance used in worship in the Temple in Jerusalem. It was very expensive—the Frankincense tree didn't even grow in Israel. It had to be imported from Sheba and Arabia. It was the fragrance of kings.
And the Magi also brought myrrh, a very costly perfume. And like frankincense, myrrh is obtained from a tree that doesn't grow in Israel. Interestingly, and prophetically enough, it was also used as an antiseptic and for embalming.
Gold for a King, frankincense for a Priest, and myrrh, prophesying Jesus' death. The frankincense and myrrh were, in fact, more valuable than the gold.
The Magi spent their whole lives studying the prophecies concerning the coming of the King of Kings…the Messiah…the Christ…just to be ready when He appeared. And then they spent years seeking Him after they knew He had arrived. And my word, how they honored Him when they found Him.
Yesterday we celebrated the first coming of Christ. His Second Coming looms before us like the predawn light in the East before the rising of the sun.
Are you seeking Christ today with the heart of the Magi who sought Him two thousand years ago?
(Photo courtesy of pixabay.)
(For more devotions, visit Christian Devotions.)
---
---