Like newborn babies, crave spiritual milk, so that by it you may grow up in your salvation. 1 Peter 2:2 NIV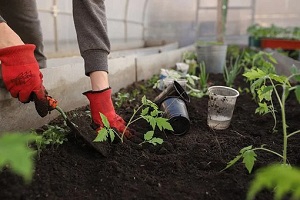 One summer, I tried to plant a container garden of vegetables as well as my tried-and-true herbs and flowers.
As always, the herbs produced scents and tastes as the flowers brought me smiles with their colors and beauty. But those vegetable plants looked so tired and dried up, no matter how much I watered and nurtured them. A single cucumber or tomato revealed a pitiful harvest.
I kept a journal of notes—of weather conditions and the tending I did after researching possible issues with the plants not producing. The answer came to me halfway through the summer and two vegetable plant fatalities later. I had taken shortcuts in providing the right soil conditions, the foundation of real growth.
This past year, I have hungered for more of God, intentionally soaking up more and more of His Word. Through Peter's words, I got a taste of this hunger as my desire to know God more gave harvest in my life. I felt His presence grow closer as my "soil" rooted in a good foundation. The garden of my soul bore more than my vegetable garden did. But then I was using the best organic compost available for my growth: God's Word.
God's Word is the best compost for our souls.
Ask God to help you see the need for more of His Word. As you mature in your love for Him, you will feel a bounty of harvest coming.
(Photo courtesy of pixabay.)
(For more devotions, visit Christian Devotions.)
---
---