For we walk by faith, not by sight. 2 Corinthians 5:7 ESV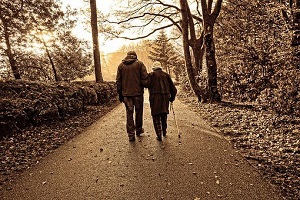 I remember my discussion with my husband about how to lead someone who is blind.
I have a progressive eye disease that will likely leave me legally blind. I told my husband that to lead someone who is blind, we must walk slightly in front of them and to the side while they hold on to our arm above the elbow. The person leading must hold their arm firmly and close to their body.
The blind person cannot walk ahead because they can't see the path before them or any danger that lies ahead. They can't walk beside or even hold hands with the leader because they don't know of dangers or the direction the path will take. The only safe way is to walk closely to and slightly behind the person leading. This allows the leader to keep them on the right path and also keeps them from walking into danger.
The conversation with my husband made me think of our walk with God. We all walk through this life blinded by sin and the things of this world. We cannot see everything with crystal clear clarity. Our only hope for navigating life safely is to stay close to God and hold tightly to Him—not trying to run ahead but allowing Him to lead us in all things. He establishes our steps. He alone knows the way because He is the Way.
We can trust God to lead us through this life. We cannot see what lies ahead, but we can trust in the One who loves us enough to guide us. We only need to have faith that He will.
Will you trust God to guide you safely through life?
(Photo courtesy of pixabay.)
(For more devotions, visit Christian Devotions.)
---
---