For the joy set before him he endured the cross, scorning its shame, and sat down at the right hand of the throne of God. Hebrews 12:2 NIV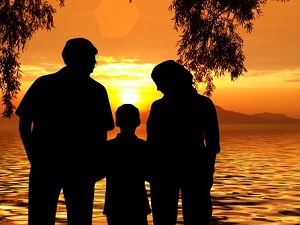 I often say the adoption of our daughter from Russia in 1989 was a different kind of "labor."
Still, the adoption was fraught with the same emotions of a biological birth: excitement, fear, joy, anxiety, hope. Because of that process, I gained a new perspective for my own adoption as a child of God. I see with fresh eyes the emotional and physical cost Jesus paid in laboring for my inclusion into His family.
Jesus' joy was not in what would happen to Him, but in what it would accomplish—salvation for sinners—and in what His reward would be—sitting at God's right hand.
In His most human of moments, Jesus sweated drops of blood as He thought about what lay ahead for Him. He knew it would not be easy or pain-free. It would be brutal and cost Him everything.
It wasn't enough that Jesus suffered emotionally; He also suffered beatings and torture. Death. The ultimate cost.
When I saw Jesus' laboring for my adoption in this light, it overwhelmed and humbled me. I can't begin to imagine the cost He paid. While our daughter's adoption cost us considerable time and money, my eternal and priceless adoption cost Someone His life.
Have you thought about what it took to adopt you into God's family? If not, take a few minutes and meditate on it. Give thanks to Jesus for the cost He paid on your behalf.
(Photo courtesy of pixabay.)
(For more devotions, visit Christian Devotions.)
---
---