But God demonstrated His own love for us in this: while as were still sinners, Christ died for us. Romans 5:8 NIV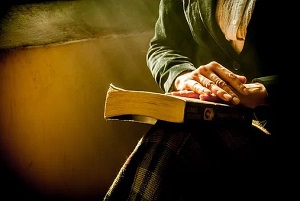 I was raised in a Christian home, so I knew about Jesus.
However, it wasn't until I was in my forties that I experienced a change in my thinking. I was studying the book of Romans. I had gone through a few difficult years. My husband had left me with two children to raise. A year later my father died. I had lost the two most important men in my life.
When I read Romans 5:8, I realized I didn't need earthly men for support. The Man I needed to rely on was Jesus. I have never remarried because Jesus' support continues to grow stronger. I needed to break down to open my heart to what Jesus did for me and to believe deep down how much He loves me.
I had read this verse many times throughout my life, but this time something happened. I realized Jesus suffered and died on that cross for me. At that moment, my relationship with Him became real and personal. I cried like a baby.
As we read our Bibles, we can read a certain passage multiple times with no reaction. Then suddenly, a new meaning hits us. God opens our minds to things in Scripture when we need them.
God knows what's going on in our lives, and His timing to intervene is perfect. Moses had to experience God away from the Egyptian influences before God could use him to save the Israelites. He spent years in Midian until he was ready to accept God's interaction. God also knows when we are ready to accept His interaction.
Now, when reading my Bible, I think, What is God trying to teach me in these verses? Sometimes, reading a passage gives me comfort but nothing more. At other times, a verse pops out. When it does, I spend more time on it because I know God is trying to teach me something.
As you are reading your Bible, a verse might touch you for no apparent reason. Be open to what God has in store for you. What you find might surprise you.
When you read your Bible, do it with a clear mind.
(Photo courtesy of pixabay.)
(For more devotions, visit Christian Devotions.)
---
---