But you will receive power when the Holy Spirit comes on you; and you will be my witnesses in Jerusalem, and in all Judea and Samaria, and to the ends of the earth. Acts 1:8 NIV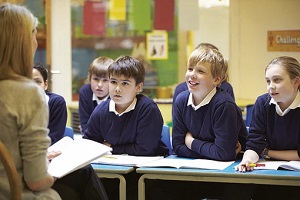 We are students in God's school.
As a college instructor, I was disturbed when my students failed the class. Didn't they want to succeed? Were they hoping I'd give them undeserved, passing grades?
Late one night, the Holy Spirit suddenly woke me in the middle of a sound sleep with a number. It was the total on a form I had completed that day for an accounting client. I prayed, "Lord, please remind me of this when I wake up, and I will verify that total." Then I returned to a peaceful sleep.
In the morning I checked the number and discovered that in haste I had erroneously doubled the total. I learned to always double-check calculations and to always pay attention to the Spirit's guidance, especially when it comes in the middle of the night.
When I fail tests of faith, do I pout and blame God? Do I wonder why I'm tested repeatedly with the same material? He points to His Word and says, "It's in there. Learn it!" Too often I try to learn just enough to pass the test, not apply it to my life. I can be a slow learner sometimes.
The Holy Spirit is our Tutor, guiding us through each lesson, opening our spiritual eyes to every truth to be learned. I believe God prepares us for all that He brings to us. We need to pay attention to our Teacher, the Holy Spirit.
Think of some ways you can better pay attention to God's instructions so you can learn His lessons quickly.
(Photo courtesy of pixabay.)
(For more devotions, visit Christian Devotions.)
---
---