Therefore as you have received Christ Jesus the Lord, so walk in Him, having been firmly rooted and now being built up in Him and established in your faith, just as you were instructed, and overflowing with gratitude. Colossians 2:6-7 NASB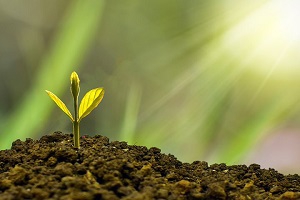 I'm a Christian. and I've been baptized, but now what do I do?
I remember a family that came to our church sporadically. They asked the pastor about baptizing their teen-aged son, and not long afterward, the pastor baptized him. They didn't return to church for about six months. Many have a disconnect in their minds between becoming a Christian and growing as a Christian.
Not only do we receive Christ Jesus as our Lord, but we also must "walk" with Him. Walk concerns how we act and speak. But the verses also talk about being rooted, built up, and established in our faith. All of these things relate to growing as a Christian.
Being rooted reminds us of the analogy in Psalm 1 of the person who delights and meditates on the law of the Lord and becomes like a tree planted by streams of water. Built up relates to growing. Established entails becoming established in our faith.
Like the person in Psalm 1, we can read, delight, and meditate on God's Word. We can attend church, hear the Word of God, and worship with other believers. We can spend time with God in prayer. We can exercise our faith by trusting the Lord in the things we face daily.
What are some steps you can take to grow in the Lord?
(Photo courtesy of pixabay.)
(For more devotions, visit Christian Devotions.)
---
---