Look at the nations and watch—and be utterly amazed. For I am going to do something in your days that you would not believe, even if you were told. Habakkuk 1:5 NIV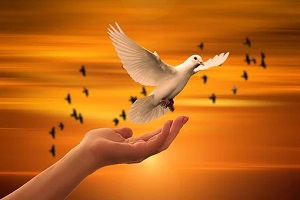 As I stood in the empty apartment I once called home, tears streamed down my cheeks.
I could see where I woke up in the middle of the night to feed my son and where he first learned to crawl and take his first steps. I could hear the laughter from my friends who had gathered there for holiday celebrations.
The pain felt unbearable. To think that our life here was over and that we needed to start a new chapter. It seemed unjust in so many ways. I didn't know how to accept having to move on, let alone embrace the next season ahead.
All I knew is that Jesus had ordained this time. He wanted it to be this way, and I needed to seek His Word for comfort and peace. But in my quest for that peace in this season, I still questioned why.
Why did my husband have to lose his job? Why did my son have to experience uprooting in his life? Why did I have to feel a loss of security?
In the story of Habakkuk, God brought the solace I needed. Habakkuk also questioned the grievances he saw in the world. He did it through an open and honest conversation with God, and so can we. God speaks to us and responds to our questions just as he did with Habakkuk.
We can trust that God hears us, and we can be assured, like Habakkuk, that God has a good purpose for the hardship we're enduring. In our pain, we can share our hearts with God.
Doing so is not for nothing. In such times, He guides us in valuable, necessary growth that wouldn't take place otherwise. We'll learn who God is and how to lean on Him more.
God will do astounding things for us. We can persevere, knowing God is by our side to hear our grievances, to speak to us, and to show us that He is a good God who has us in His hands, no matter what.
Have you discovered that God has a bigger plan for you?
(Photo courtesy of pixabay.)
(For more devotions, visit Christian Devotions.)
---
---