So now faith, hope, and love abide, these three; but the greatest of these is love. 1 Corinthians 13:13 ESV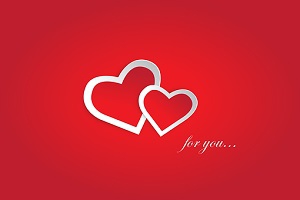 She stood in the aisle gazing at the valentines on the shelf.
Going to her tiptoes, a little curly-haired girl stretched to reach a card. I watched as her fingers scraped and stretched for the card. She grunted in frustration.
"Need some help?" I asked as I reached over her and pointed at the card. She smiled.
"Thanks." She opened the card, and a giant heart popped up that brought the sweetest giggle. "It's for my Aunt Terri. She's got Covid."
"I'm sure she'll love the card. It's a sweet thought. I'm sorry she's sick," I said.
"Momma said she will go home tomorrow. But she cried. I told her going home from the hospital was great."
It suddenly occurred to me that her aunt was probably on life support and that her "going home" meant her passing. I leaned over and asked if I could see the card again. The child handed it to me. "Yep, your Aunt Terri will l-o-v-e this card." The child grinned and took the card.
Wandering through the store, gazing at all the valentines, flowers, and candies, the child remained in the forefront. That little girl didn't understand what her mother meant, but she had faith and hope that things would be fine. To me, the love she felt for her aunt was perfect love.
Paul reminds us first what love is, then what it is not. He lets us know that without love, we are nothing, and we have nothing. Paul knew believers needed to understand the love of Christ and be charged with following suit. Love as Christ loved. Forgive as Christ forgave. Without this depth of love, they would be nothing.
Today, 1 Corinthians 13 is used as the basis for marital love, but it goes further. To love like Christ means to love without fail, love endlessly, and love with compassion. That curly-headed cutie loved with the greatest love. If only we could grasp hold of such pure love and begin to value our relationships with others. In a day when divorce rates soar over fifty percent and people strive for their own happiness—forgetting others in the process—we must wonder where "the greatest of these" three has gone?
Take value in your relationships. Love with the love of Christ, and you will experience the greatest of the three.
(Photo courtesy of pixabay.)
(For more devotions, visit Christian Devotions.)
---
---