He already had in mind what he was going to do. John 6:6 NIV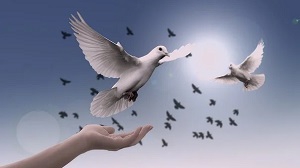 In April of 2017, I heard a preacher praise Thomas for doubting the rumor that Jesus had risen from the tomb.
"Unless I see the nail marks in His hands and put my finger where the nails were and put my hand into His side, I will not believe it." The preacher then asked, "But who of us does not have doubts?" He continued by saying that questioning God's Word to verify its authenticity was normal, even healthy. My spirit recoiled.
In Luke chapter nine, Jesus sent out the twelve disciples with these instructions: "Preach the kingdom of God but take nothing for the journey. No staff. No bag. No bread. No money. No extra tunic." He advised them to find a welcoming home in which to rest and to remain in that home until they left.
When the Twelve returned, Jesus gathered them in a remote place, but late in the afternoon, the Twelve came to Him and asked that He send the crowds away. They still had not grasped that He alone was their provision.
Days earlier, the Twelve had gone out to draw crowds to Jesus. Now, they were sending crowds away from Jesus. This is us. This is the modern church. Tapped out, tired, and living by sight not faith, we send crowds away from Jesus.
"You give them something to eat," Jesus replies.
"But we only have a few fish and loaves. How far will that go among so many?"
Although Jesus stood with them, Phillip and Andrew only saw five small rolls and two small fish. Jesus saw "in His mind what He was going to do."
Jesus looked to heaven, the source of all provision, and gave thanks. He blessed what He held. He divided the food into smaller bites and distributed it to the Twelve.
This is the multiplication power of our Father. What we have is always enough when we have the power of Jesus within us. The five loaves, distributed to people seated in groups of fifty, fed five thousand plus. The Twelve gathered twelve baskets.
In chapter ten, Jesus sent again. It's as if Jesus was saying, "Okay, team. You've seen how this works. Let's try once more." Jesus concluded His instructions with this: "The harvest is plentiful, but the workers are few."
Believe Jesus is enough. He is all the provision you need.
(Photo courtesy of pixabay.)
(For more devotions, visit Christian Devotions.)
---
---