For though by this time you ought to be teachers, you need someone to teach you again the basic principles of the oracles of God. You need milk, not solid food, for everyone who lives on milk is unskilled in the word of righteousness, since he is a child. Hebrews 5:12-13 ESV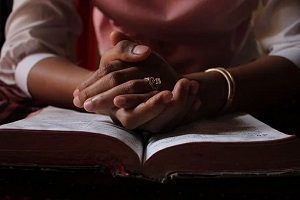 My heart ached as I watched a video of a Christian, solid in the faith, asking college-aged students to define love, happiness, and God.
Their answers were staggering. Many seemed to have no idea about the love of God. Their idea of happiness was doing what the cosmos led. Cosmos? When asked what they would say if a forty-year-old man told them he wanted to be a student in a first-grade class, many responded, "If that is where he feels he needs to be." These students were clueless about Christ, and they had no idea how to question something they knew to be innately wrong.
I laid my head on the table and sobbed. What happened to the absolutes we once knew?
The writer of Hebrews felt that same frustration when he reminded the people they'd been believers long enough to have moved ahead in their study of the Word. Instead, their hearing was dulled. They'd made no progression in their knowledge of the Word. They still fed on milk and were not ready to feed on the meat of the Word, much less teach it.
The problem has changed little throughout the ages. With such extraordinary technological abilities at our fingertips and our extended abilities to learn and teach, we give little focus to knowing God's Word proficiently. Many in our churches still feed on the milk. Our zeal for knowing Him better has diminished.
Christ brought us so much with His entrance into the world. He raised the bar from strictly obeying the law to knowing the Father's human, tender, and fruitful side. Yet as time passed, we have folded under the world's demands and allowed the absolutes of who God is, why He came, and why He left to slip from us.
If ever there was a time for God's people to know Him fully, it's now. Study to show yourself approved in the Word. Not only will you grow, but you will also be able to share Him in the fullest and most accurate way. He waits for you to respond. Answer.
(Photo courtesy of pixabay.)
(For more devotions, visit Christian Devotions.)
---
---