The hand of our God is for good on all who seek Him. Ezra 8:22 ESV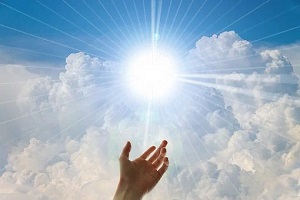 As I dropped off to sleep, I felt a tickling sensation on my arm.
I scratched what I thought in my near-dreamlike state was an itch only to feel something alive. I awoke, screamed, and brushed whatever it was onto the floor.
Across the hall and through two closed doors, my cries awoke my housemate who called out, "Are you okay?"
I switched on the lamp and discovered a stink bug lying on its back on the floor. I promptly disposed of it. "I am now," I said.
Many things may wake us in the night. We may worry about our job, or lack of one, or an unbalanced state of finances. We may fret about wayward children and grandchildren or friction in other relationships. We may be stressed about upcoming medical tests and treatments or startled and saddened by learning the results of those tests.
Whatever it is that troubles us, the Bible tells us that we can cry aloud to God, that He will hear us, and that His hand is on us for good.
Jesus' death on the cross reminds us that God loves us. He cares about each one of us. His hand of good may not be the immediate good we look for, but in the long run, we will see the good.
Will you cry out to Jesus with your worries and cares? Will you trust His hand to provide the good?
(Photo courtesy of pixabay.)
(For more devotions, visit Christian Devotions.)
---
---