The Lord is close to the brokenhearted and saves those who are crushed in spirit. Ps 34:18 NIV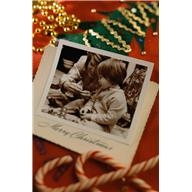 I hated that box of Christmas cards. My daughter had passed away in October, and it was now early December, time to write Christmas greetings to friends and family. The box of holly-embossed cards just reminded me of the flowered wreaths that had ringed my daughter's gravesite. How could I be full of the joy of the season when my heart was shattered? Tears dropping onto the cards made my words unreadable.
A passage I'd written in my Christmas novella came from my place of grief. In the book, a ten-year-old Appalachian girl writes about the recent deaths of her baby brother and grandfather in her journal entry. She says that her tears falling on the journal page, from merely writing their names, caused smudges she referred to as runny spots. Her last words in that chapter say, "Surely there won't be anymore runny spots. Surely." The young girl's words mirrored my attempt to journal my emotions after my daughter's death.
The Bible gives examples of how our Lord helps us to deal with grief's consequences. Jesus called the Holy Spirit "The Comforter." We will all experience grief in our lifetime. It is inevitable. Grief not only comes in the form of death but also over a divorce, errant children, missed opportunities, bad life choices, and a myriad of other reasons. Take comfort by studying His Word and drawing strength from His teachings. Turn to Him when your heart is broken and when you feel lost in a world of hurt and pain.
Don't we all long for a griefless life? But in our hearts we know that is unlikely to ever happen. What we can have is the Holy Spirit to stand with us when times of grief come. I pray you know this God of comfort. If not, ask Him to enter into your heart today. He waits with open arms and with a hope for your future.
(Photo courtesy of office.microsoft.com.)
(For more devotions, visit www.christiandevotions.us.)
---
---