For God so loved the world that he gave his one and only Son, that whoever believes in him shall not perish but have eternal life. John 3:16 NIV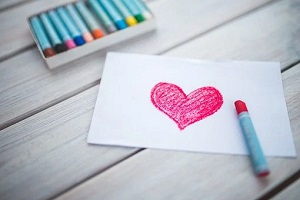 In February, on the day before Valentine's, our church celebrated Holy Communion. To cover both events, I preached on the greatest verse.
I illustrated with Castaway, the 2000 movie about a FedEx troubleshooter, Tom Hanks, who was stranded on a deserted island when his plane crashed into the Pacific. After four years of struggling to survive, he built a raft and headed for the open sea where he was rescued by a freighter.
On Communion Sunday, our people each received a handout with three handmade drawings: a cargo ship on the upper left with the words, "God gave his Son" printed on the boat; a tiny raft on the upper right with the words "shall not perish but have eternal life" printed alongside; and an anchor below the ship and attached by a chain with the words "God so loved the world."
We began at the end of the verse and worked backward. Eternal life was God's plan for creation. Our first parents, Adam and Eve, entered the world with a clean slate just like their Maker. Then they sinned, and their sinful nature spread to all their descendants. We are all born on the perishing list.
Eden's garden also had the Tree of Life, but God did not allow Adam and Eve to eat its fruit because salvation was not that simple. How, then, was God to get us off the perishing list and into the Book of Life? He gave His Son. We tend to expect gifts for birthdays and Christmas, but this gift was totally unexpected.
God's motivation for giving His Son was love. As Christians, we may love many people—whole tribes and even nations—but not the entire world. As much as we might want to, we do not have the capacity. Only God can love the entire world. Which He does, and has from the moment He made it. Every person who ever lived, every hair on our heads, every drop of blood in our veins, every breath in our nostrils, every blade of grass, every tree, and every sparrow.
God's love is the anchor that holds everything together. Have you received it?
(Photo courtesy of pixabay.)
(For more devotions, visit Christian Devotions.)
---
---