The LORD does not look at the things people look at. People look at the outward appearance, but the LORD looks at the heart. 1 Samuel 16:7 NIV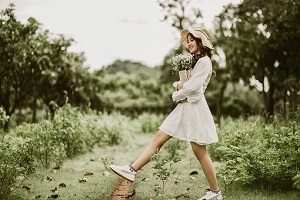 I woke up in the wee hours one morning—my usual routine.
I remembered I had not written a blog for that day. I headed to my office, only to find that my desk looked as if a tornado had passed through and dared to come back. I immediately cleared the paperwork and put items back in their place—all the while praying God would give me an idea for that day's blog. His idea came quickly. "Just as you cannot work unless your desk is perfectly clean, so many people, including you, feel they cannot come to Me unless their life is perfect."
Ouch. Don't you love it when God shares a profound thought and includes you as a person who needs to change?
I thought about what God said and realized I believed I had to be perfect before approaching Him in prayer, my quiet time, or anything God-related. And heaven forbid I would show up at church or my women's group without being perfect. I had to have the right outfit with matching jewelry, shoes, and handbag. I thought I had to be perfect and pretty—neatly wrapped with a ribbon and bow. How foolish of me.
Do we think God doesn't already know our flaws, imperfections, and sins? Of course He does. And He wants us to come to Him with all those things. When we open ourselves to Him and ask forgiveness for unconfessed sins, He is quick to forgive. When we become vulnerable and transparent, He shows us what He thinks of us. He doesn't see our flaws and imperfections. He sees us as the beautiful children He created us to be.
We might think a perfect God would want perfect people. He doesn't. He wants us to come to Him just as we are—broken, wounded, sinners—so that His mercy and grace can overflow our lives, and He can forgive our sins. He wants to pour His unconditional, extravagant love into us, and, in our weakness, He will show Himself strong on our behalf.
Untie the bow, take off the ribbon, remove the wrapping paper, and come just as you are. God is waiting.
(Photo courtesy of pixabay.)
(For more devotions, visit Christian Devotions.)
---
---