But the basic reality of God is plain enough. Open your eyes and there it is! Romans 1:18 MSG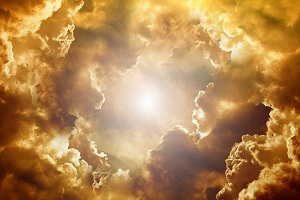 "Where is God?" the child asked. "Why can't I see Him?"
Unfortunately, too many adults ask the same question. They refuse to believe in something—or rather Someone—they cannot see or touch.
For those who refuse to acknowledge Him, the Bible says: "The basic reality of God is plain enough. Open your eyes and there it is! By taking a long and thankful look at what God has created, people have always been able to see what their eyes, as such, can't see: eternal power, for instance, and the mystery of His divine being. So nobody has a good excuse" (Romans 1:18-20 MSG).
The Passion translation puts it this way: "The invisible qualities of God's nature have been made visible . . . He has made His wonderful attributes easily perceived."
What we see—the visible—helps us recognize and understand what we can't see—the invisible. I saw a T-shirt once that read, God doesn't believe in atheists. That's because He has placed a piece of heaven in every human heart. We choose whether or not to embrace it.
So, where is God? Maybe the parent should have said to her child, "Look around you. You'll find Him in a beautiful sunset. A majestic mountain peak. A glorious waterfall. Snowflakes that blanket the earth in brilliant white. A baby's smile. The giggle of a toddler at play. A warm hug from someone you love. An answered prayer. Open your eyes and your heart. If you look for Him, you will see Him."
God is everywhere. But the place He desires to dwell is in your heart.
Will you invite Him in?
(Photo courtesy of pixabay.)
(For more devotions, visit Christian Devotions.)
---
---