He reached down from on high and took hold of me; he drew me out of deep waters. 2 Samuel 22:17 NIV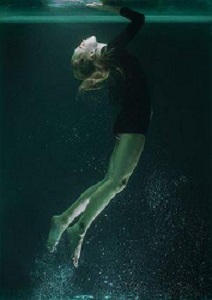 One sunny afternoon when our girls were young, our family spent some time at our friend's house, enjoying their beautiful swimming pool.
As I stood in the shallow water chatting, my daughter Amanda inched her way out of the shallow end and headed to the deeper end of the pool. When I looked down, I saw my sweet girl's big, brown eyes looking up at me from under the water. I will never forget that moment. I immediately reached down and pulled her to safety. Thinking about this makes my heart skip a beat. A loving parent will do anything to rescue their child from danger.
Chapter 22 of 2 Samuel is a song of praise David sang to the Lord who had delivered him from the hand of his enemies and of Saul. He felt as if waves of death swirled around him and the torrents of destruction overwhelmed him. Yet he called to the Lord. He was confident God would rescue Him.
I do not remember a time when I ran or sought refuge from a flesh-and-blood enemy who wanted to take my life. I do, however, remember times when I felt as though I would drown in pain, sorrow, and difficult circumstances. In those dark and tumultuous seasons, I shifted my focus back to God and remembered His faithfulness to me in the past. Trusting His promises, I believed He would restore my joy and put a song of praise on my lips.
When we feel as though we are sinking in the circumstances of life or the deep waters of fear, sorrow, and regret, we can have hope. As my sweet daughter did, we can look up and give our circumstances to Jesus. God will reach down and draw us out of those deep waters.
How can you let God restore you? Will you trust Him to do it?
(Photo courtesy of pixabay.)
(For more devotions, visit Christian Devotions.)
---
---