But the Lord said to Moses and Aaron, "Because you did not trust in me enough to honor me as holy in the sight of the Israelites, you will not bring this community into the land I give them." Numbers 20:12 NIV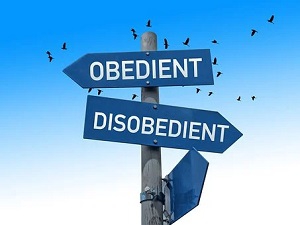 There was a time when my son turned his back on all his family.
I handled the situation all wrong. I ridiculed and condemned him, which only pushed him further away. This increased my agony as well. After many months of this, I turned the situation over to God. My son was still apart from me for a few years, but I knew God was caring for him. Our relationship has since been restored, and I know God was responsible for the healing. I needed to depend on Him. I learned a lesson the hard way.
Moses led the Israelites through the desert. They were thirsty and needed water. God told Moses to strike the rock with his staff. When Moses did this, water gushed out. Years later, the Israelites were at a new location in the desert and needed water again. This time God told Moses to speak to the rock. Instead of listening to God, Moses struck the rock twice. Water did flow from the rock, but Moses had to pay the consequences for his disobedience. God forbade him to enter the Promised Land.
God has granted us eternal life through the blood of Jesus Christ. Once we believe in Jesus and are given this gift from God, He will never take it away. But sin still resides in our lives. When we sin, consequences follow. God doesn't want us to keep sinning, so when we do, He sends negative results. That's how He teaches us the difference between right and wrong.
God never stops loving us, and He will never push us away. Because of His love as our heavenly Father, He will sometimes teach us in ways we might not like.
What are some things you have learned from God?
(Photo courtesy of pixabay.)
(For more devotions, visit Christian Devotions.)
---
---