For whom He foreknew, He also predestined to be conformed to the image of His Son, that He might be the firstborn among many brethren. Romans 8:29 NKJV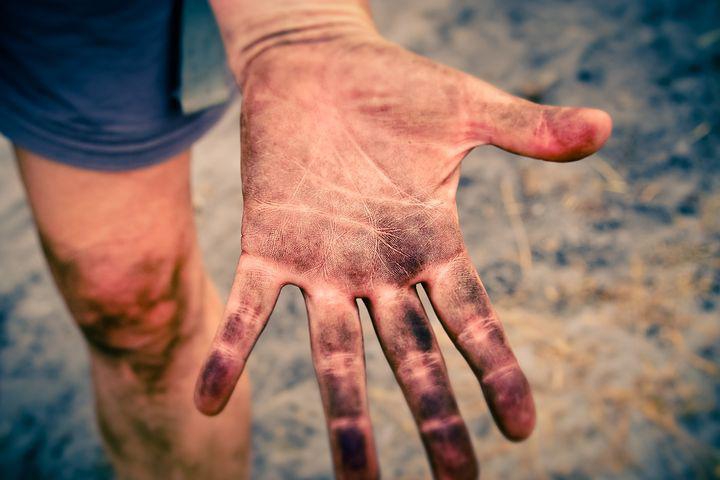 Spreading peat moss is messy, especially in New Mexico's spring winds.
When I finish, I have a carpet of dirt coating my hands and crammed underneath my fingernails. Seeing my hands like that reminds me of a pair of hands from my childhood.
Kari was my best friend, and her dad was a mechanic. His hands were caked in grime when he came home after ten hours of fighting with tires and grease. He scrubbed them diligently, but the skin folds and nails never came clean.
My hands were grubby because I had done thirty minutes of gardening. But his hands were dirty even many years later because he worked hard. My work took effort, but his job required dedication. My afternoon in the garden was purposeful, but his daily duties impacted lives, including his family.
In life, God's hands are like Kari's father's hands. God's hands aren't a little dirty from reaching to earth once every decade or century. They are always dirty because He constantly works in our messed-up lives. He is busy not just removing the yucky stuff but also using it. God grows us in the stickiest situations and through the most challenging people. He has specific goals for us and our character.
Every day in numerous ways, God's hands are hard at work. And every day is a fresh opportunity for us to invite Him to continue His good work in our lives. Every mundane task and day-to-day trial stretches before us as a chance for God to conform us to the image of His Son.
In what ways are you letting God dirty His hands in your life?
(Photo courtesy of pixabay.)
(For more devotions, visit Christian Devotions.)
---
---