It will also come to pass that before they call, I will answer; and while they are still speaking, I will hear. Isaiah 65:24 NIV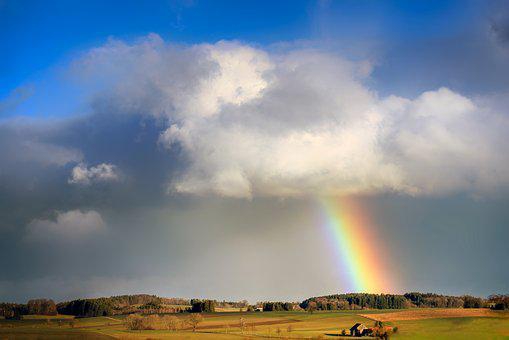 Weariness and disillusionment settled over my spiritual battleground like thick black-powder cannon smoke.
Contending for God's promises, remaining focused in faith, praying, fighting for footholds of sanity, and loving regardless felt elusive—like a horrible joke. War in my soul spiraled into spiritual tension so dense it manifested into a demonic weight that pressed against my body and made coming home like entering a room imploding with a thousand swirling pieces of glass. More than once, tears watered my approach to the foot of God's throne for mercy and comfort.
But one day, God sent a stunning answer. The scene erupted like a drive-in picture screen. A surreal, towering rainbow spread wide before me like open arms. God's arms. I wanted to run into them.
The splendor of those brilliant colors, bowing close to the heavens surrounding my home street reminded me of God's ultimate control and power. And God, my Abba Father, heard my prayers. Not just seconds before, but before time began, He prepared an eye-popping rainbow to comfort me. He hadn't forgotten His promises. He knew the battle going on, how ragged and exhausted I'd become. And He reached down from heaven, wrapped me in His loving embrace, and encouraged me. That is beyond good. God is beyond good. He is glorious. And He took pleasure in answering me before I cried out.
Spiritual battles will never end on this earth. But God is sure, and His answers are already in place. He enjoys moving for us before we speak.
Have you experienced God's touch of comfort and encouragement with a sign? If not, ask God to move in that way for you.
(Photo courtesy of pixabay.)
(For more devotions, visit Christian Devotions.)
---
---