For we know that if the tent that is our earthly home is destroyed, we have a building from God, a house not made with hands, eternal in the heavens. 2 Corinthians 5:1 ESV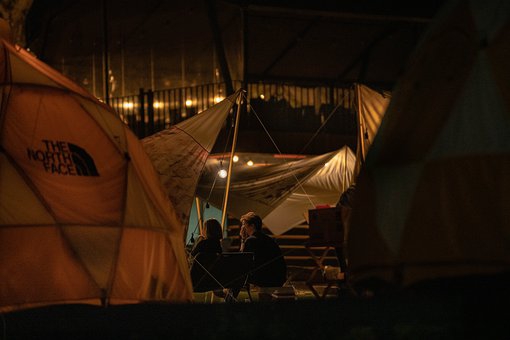 Girl Scout camp was the highlight of my childhood summers.
Every year, my friends and I shielded ourselves with bug spray and sunscreen and headed for the great outdoors. The camp provided canvas tents for our overnight adventures. If we put them up correctly, they could withstand a summer downpour. If we did it wrong, they would surely fall in the middle of the night. Summer after summer, we braved the daddy longlegs to haul those heavy tents out of storage, then struggled to put them up. And we prayed it would not rain.
When Paul calls his body a tent, I picture wrapping one of those heavy, rough canvas tents around me. No wonder Paul says he can't wait to shed his earthly body. His itchy, stiff tent was worn out from his work and battered by his constant challenges.
Paul longed to put on his new, perfect, spiritual body—one that would cover him in life. While he spoke of eternity, he also addressed the here and now when he said believers are new creations. The old has passed away, and the new has come.
If we ever feel like Paul, it's because God designed our souls for more. The tent (our physically imperfect body) is practical, but God didn't create our souls for these temporary dwellings.
When we accept Christ as our Savior, He immediately begins renewing and reviving our souls. We don't have to wait until eternity to enjoy Jesus' comfort. This doesn't mean life won't chafe us as we live in our canvas tents. Times will come when we feel gritty, tired, and overwhelmed by the evil in the world and the stress of our daily circumstances.
Like a comfy T-shirt and pair of jeans, Jesus offers comfort every day. He wraps us in His presence and reminds us of His love. He soothes our broken hearts and gives us the courage to face whatever comes our way. And unlike those heavy, uncomfortable temporary tents, Jesus' love never fails us.
Wrap yourself in the permanent, soul-soothing shelter of Jesus. Don't wait for eternity to enjoy His comfort.
(Photo courtesy of pixabay.)
(For more devotions, visit Christian Devotions.)
---
---