I always thank my God for you because of his grace given you in Christ Jesus. For in him you have been enriched in every way. 1 Corinthians 1:4-5 NIV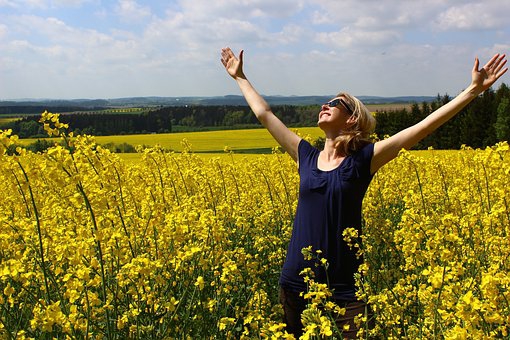 Time to skirt to the back of the line.
That was always my response when teachers asked, "What are you thankful for this Thanksgiving?"
I'm thankful. Probably more than the "average bear," but I hated being put on the spot. The things I seemed grateful for were little … insignificant … unimportant to most. When classmates were wielding family, meals, and personal possessions, the things I held dear to my heart were different.
While my family has always been a priority, it was also a given I was thankful for them. But when you sneak to the back of the line, and the fifteen people ahead of you have already said the same thing, your teacher starts to roll her eyes at the lack of thought her students put into being thankful.
There was never a doubt I was grateful for a good home and parents who loved and provided for me. I never knew we had so little. Our family always rejoiced at what we had. It never occurred to me to be anything less.
When my teacher finally worked her way to me, I was forced to answer the question.
"What about you, Cindy?" Mrs. Jackson asked.
"I'm thankful for…."
"Yes, go ahead."
"I'm thankful for being able to open my eyes today."
The other children laughed, and I wanted to crawl under the desk. I'm not sure if the courage to continue came from their laughter or from my teacher gently patting my back, but I went on. "I'm thankful for hope. For safety. But more than anything, I'm thankful for grace. It's the most important."
My teacher knelt in front of me. "Wow. Those are valuable things. And grace is the most important." She took my hand and kissed my knuckles. "I've just found a new thing to be thankful for."
Paul was always grateful even in his hardest times, and he never failed to share that. He reminded his friends how they enriched his life through Christ. That genuine joy in grace kept him thankful and happy.
This Thanksgiving, look around at the things that have enriched your life through Christ. I guarantee it will be different than the pat answer you normally give. Me … well, I'm still grateful for His grace. Guess I always will be.
(Photo courtesy of pixabay.)
(For more devotions, visit Christian Devotions.)
---
---