You know, Jesus said, No one who puts his hand to the plow and looks back is fit for the kingdom of God." Luke 9:62 ESV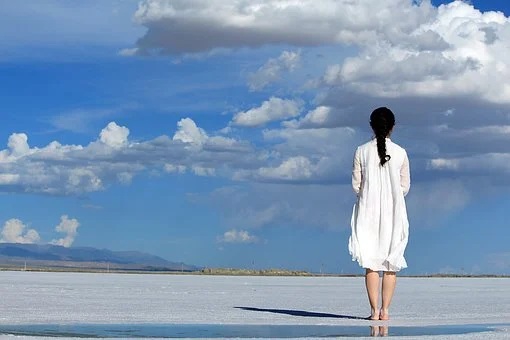 I once learned the don't-look-back lesson.
A few decades ago, I ran on a seaside path and enjoyed the roar of the ocean waves—the fragrance of the sea spray tickling my nose, and the rhythm of my steps echoing my heartbeats. The wind blew my hair out of its neat braids, and I brushed the damp ringlets from my neck and eyes.
As I looked along the winding path, I glimpsed approaching walkers, roller skaters, bicyclists, and fellow runners. One runner stood out because he was quite handsome. As we passed, he smiled broadly and said, "Good morning!"
I could not resist the temptation to turn and look at him as he ran away from me. When I did, I tripped over an uneven portion of pavement, fell, and rolled along the path.
Dazed and bruised, I sat up. An older couple had witnessed the entire episode. The husband helped me to my feet and over to a wooden bench where I could recover. The wife offered me a packet of tissues, which I used to blot my scraped and bloody palms and knees. She also could not resist imparting a bit of wisdom. We laughed, and they continued their stroll.
I remained on the bench a while longer, marshaling my forces and contemplating what had transpired. I was there to exercise in the fresh air but had let a secondary motivation distract me. I lost focus by looking back and tripped over something I could have easily seen had I not turned around. Additionally, I sprained my ankle. I would have a long walk back to my car and several days' delay before returning to my favorite running place.
If we're not careful, the same scenario can happen in our spiritual lives as well. We start well with spiritual disciplines, like daily Scripture reading and prayer, but distractions come along and derail us.
What steps can you take to keep from looking back?
(Photo courtesy of pixabay.)
(For more devotions, visit Christian Devotions.)
---
---