Be not deceived. God will not be mocked. Whatever a man sows, he shall also reap. Galatians 6:7 NIV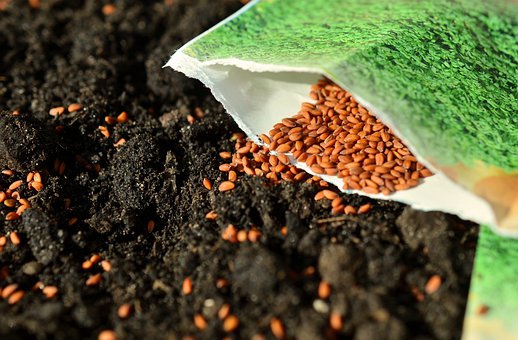 While planting petunias on my garden patio, I watched as my grandson poked something into the dirt.
The arrival of warmer weather had called us outside to play, and we both found the pots of dirt too inviting to resist. To my surprise, he wrestled a button loose from the tattered shirt of a scarecrow adorning his pot, stuck it into the soil, and patted it firmly.
Seeing the surprised look on my face, he shouted, "Look, Nana, I'm planting scarecrows." We laughed as he patted the dirt. At age three, he grasped the principle of sowing and reaping. Never mind that buttons aren't seeds, and scarecrows aren't plants. In his young mind, he understood that if you plant a scarecrow, you'll get a scarecrow.
Miles understood at his young age what I sometimes ignore in my older age. The laws of sowing and reaping are evident in my garden. I don't plant lettuce seeds and expect petunias. But they are not always so clear in my everyday life. Haven't I sown one thing expecting to reap another? Perhaps not with seeds, but with deeds—attitudes, actions, words. What about the times I've sown discord expecting peace? Or indulged an appetite only to find emptiness? And what about the times my closed hands expected generosity?
The laws in my garden are also at work in my life. God makes this clear when He cautions us about sowing and reaping. There was a season in my life when I valued the freedom of going my way above following God's principles of sowing and reaping. The consequences were painful and far-reaching but taught me the importance of following God's instruction. I now regard what I once thought was restrictive and punitive as wise counsel and guidance from my heavenly Father.
We honor God with our hearts and actions by following His principles. When we sow according to God's Word, life takes root and flourishes as we reap the love and favor of an extravagant God. The memory of a summer sowing scarecrows with my grandson is one such blessing.
What type of things are you sowing?
(Photo courtesy of pixabay.)
(For more devotions, visit Christian Devotions.)
---
---