Your word is a lamp to guide my feet and a light for my path. Psalm 119:105 NLT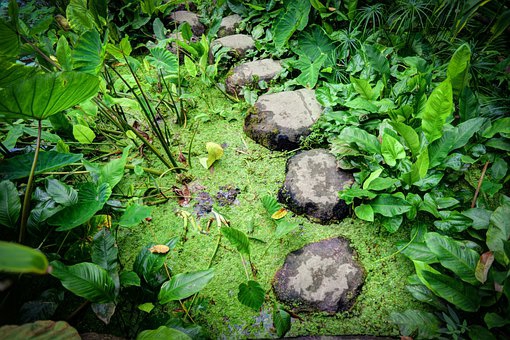 One day God showed me a lovely example of how our walk of faith is gradual. Bit by bit. One tiny step at a time.
Colorful stones created a perfectly laid-out path through a beautifully manicured garden, each containing a message. Faith. Hope. Trust. Love. Perseverance. Joy. Peace. Prayer. Blessings. I followed them to the end, where the last one said Keep going, just follow Jesus.
The stones made me smile. They reminded me that walking by faith is a step-by-step process, just like taking a stroll and putting one foot in front of the other. Sometimes we make the walk more difficult by rushing ahead, lagging behind, or stumbling over our own feet. At other times, we think we know the better route and take off on our own instead of depending on the Lord—especially when the path seems dark and a little ominous. That's when we get in trouble.
Many people have a hard time with what they cannot see. But God is pleased when we put our trust in Him. He gives us His Word as a lamp to guide our feet and light our pathway. When we stay in sync with Him, He will ensure we stay on the right track and keep our balance. He will keep us from stumbling or losing our way. All it takes is a little faith—believing God will do what He says He will do.
Promises and blessings fill God's Word like steppingstones in a garden. Receive them by faith. Take His hand and follow Him . . . step by step. He will never lead you in the wrong direction.
(Photo courtesy of pixabay.)
(For more devotions, visit Christian Devotions.)
---
---