He was despised and rejected by mankind, a man of suffering, and familiar with pain. Like one from whom people hide their faces he was despised, and we held him in low esteem. Isaiah 53:3 NIV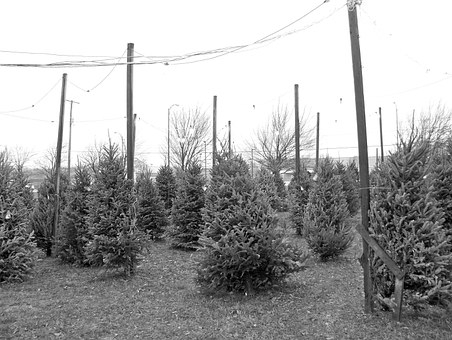 Only two trees stood beneath the lights.
During the second week of December, my husband and I, along with our son, went to our favorite lot to choose a Christmas tree. Patches of snow covered the gravel drive. Rows of white light bulbs were strung along a rope hung over the lot. We saw only two trees.
The tree lot owner shrugged. "I don't blame you if you want a better-looking tree. The big competitors reserved all the trees last year, and the small vendors didn't stand a chance." He pointed to the trees—one squatty and uneven and the other scraggly and skinny.
We bought one of the disfigured trees. Once we trimmed our Christmas tree, the scraggly fir wasn't storybook perfect, but acceptable.
As I sat beside our scraggly tree reading my Bible, I read about Jesus's life on earth. After only three years into His ministry, Jesus was arrested by the government officials, having been persuaded by the town priests and elders. Pilate couldn't find any wrong in Him and offered to trade Jesus for the criminal, Barabbas. The people insisted on Jesus' crucifixion and chose to release Barabbas. The prophet Isaiah predicted the attitude of people toward Jesus: despised, rejected, a man of suffering and pain.
Are you feeling despised? Rejected by a co-worker or by someone you love? Are you listening to someone who's cutting you with words? Do you believe your own self-loathing? Our tree reminded me of how Jesus takes our flaws and imperfections and transforms us into an acceptable member of His family.
No matter what people say, Jesus doesn't see us as unfit. He sees our potential. We are worthy, acceptable, and useful.
How can you show your thankfulness for God's Christmas gift to you.
(Photo courtesy of pixabay.)
(For more devotions, visit Christian Devotions.)
---
---