In their fright the women bowed down with their faces to the ground, but the men said to them, "Why do you look for the living among the dead?" Luke 24:5 NIV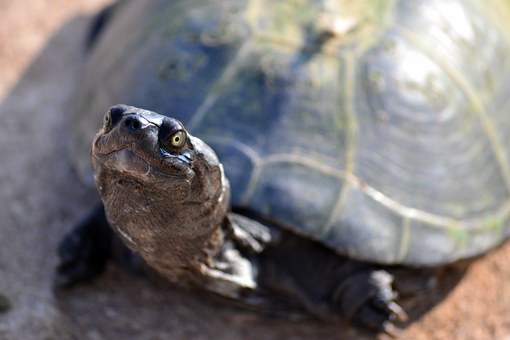 One spring day when our boys were small, I brought home a turtle I had found on the road.
They excitedly helped as we made up a box with a water dish, grass, and stones. But our turtle wanted nothing to do with his new home. He never drank the water, nor ate a single piece of bread. Each day he grew weaker, until by the end of the week he lay motionless. We felt the best thing was to return him to the swamp where he could spend his final days in peace.
Though we explained that Mr. Turtle was sick and needed to be set free, our boys were sad over his leaving. I parked the car and carefully took him out of his box. I walked a few paces into the woods and placed Mr. Turtle onto the mossy ground. At first He remained motionless, but then slowly he eased his feet out of the shell until his claws touched the ground. He poked out his head, stood up, and clambered down the hill as fast as his turtle legs could carry him. We burst out in relieved laughter.
Two thousand years ago when Jesus walked up Calvary's hill destined for death, His disciples felt just as we do. When they saw a huge stone rolled over the entrance to His tomb, they gave up hope and went into a room, locking the door behind them. But when things seemed darkest, on the morning of the third day, Jesus sat up, put one foot and then the other on the ground, and walked into the day so that all of us who believe in Him could follow.
All of us have sometimes felt imprisoned by fear, bitterness, or pain—just like Mr. Turtle in his box. It seems as if it would be much easier to pull back into our shell and give up, but because Jesus got up, we can put one foot in front of the other.
Don't let fear, bitterness, or pain keep you imprisoned. With God's help, you can come out of your shell.
(Photo courtesy of pixabay.)
(For more devotions, visit Christian Devotions.)
---
---