When the woman saw that the fruit of the tree was good for food and pleasing to the eye, and also desirable for gaining wisdom, she took some and ate it. She also gave some to her husband, who was with her, and he ate it. Genesis 3:6 NIV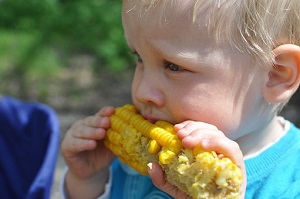 After a tiring day at work, I love sitting down to an evening meal with my four-year-old grandson.
Riley is quite the entertainment. Like most four year olds, he will do anything to distract me from trying to get him to eat or try something different. One day as he squirmed in his chair, I fixed his plate, putting a spoonful of each food group on it.
"Riley, I want you to try these peas. They are good for you," I said.
Without a blink or hesitation, he dropped his head, then looked up at me, and said, "Boys don't like peas!"
As we finished our meal, I pondered how sometimes we do the same with our heavenly Father. He lays something in front of us and says, "This is good for you, and this is the plan I have for you." But we say, "No, I don't like this. It's not what I wanted."
God gave Adam and Eve all they needed—His very best. Good land and good food. The Garden of Eden was perfectly prepared. Eve, however, was deceived by Satan. He led her to believe God hadn't done enough. She needed more. He led her to doubt what God had said about the tree of knowledge of good and evil. She questioned God's goodness and love.
Eve was defeated because she listened to Satan's lies and walked in disobedience. She forgot God's promises and provisions. Because she did, the consequences for her and Adam's sin were great. Their perfect life and world were forever changed.
In Riley's little mind, he could not comprehend why I wanted him to eat something disgusting. What he did not understand was that I wanted him to eat healthy and try new foods. My intentions were good, and the benefits were even better.
God desires to give us His best. He wants us to trust and believe what He tells us in His Word. He loves us enough to show us His truth.
Trust our great God to always give you what is good.
(Photo courtesy of pixabay.)
(For more devotions, visit Christian Devotions.)
---
---