When the angels went away from them back into heaven, the shepherds said to one another, ?Let's go to Bethlehem and see this thing that has happened, which the Lord has told us.? So they hurried off and found Mary and Joseph and saw the baby lying in the manger. Luke 2:15-18 GNT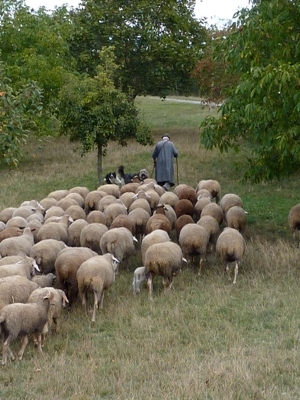 The story of Jesus' birth tells us a multitude of heavenly hosts filled the sky that night. The angel told the shepherds the news he shared was great. He said it would bring great joy to everyone. He told the shepherds to go see what had happened.
We read that the shepherds left their flock of sheep, their only source of income, and went to Bethlehem, the City of David. There the shepherds found Baby Jesus in the manger. The shepherds did not form a committee to figure out the best way to get to Jesus. They did not ponder what they should say, and compose a speech for when they found Him. They didn't vote to see who got to lead the way. They simply got up and went. The shepherds left their sheep and went quickly into Bethlehem. Once they found the newborn babe, they told Mary and Joseph what the angel had said to them in the field, "Today your Savior was born … He is Christ, the Lord." Then the shepherds returned to their sheep, praising and thanking God for allowing them to be a part of His miracle.
There is a list of What Ifs. What if: the shepherds didn't go, wouldn't leave the security of their fields, or wouldn't search for Jesus. Would their lives have been changed, or would they have been content to let the day of Christ's birth pass by without notice?
Like the shepherds, we are given a glorious message. Unlike the shepherds, we live this side of the cross. We know what it cost God to send His son, Jesus, into our world to save us from our sins. The baby in the manger became the Savior on the cross.
As you reflect on Christmas, seek the Messiah. Go quickly and tell others the Good News of a Savior who came to seek and to save everyone who is lost.
(Photo courtesy of morguefile and Seemann.)
(For more devotions, visit www.christiandevotions.us.)
---
---