I will instruct you and teach you in the way you should go; I will counsel you and watch over you. Psalm 32:8 NIV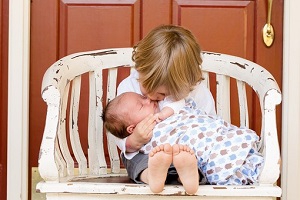 I don't know the love of a parent.
I wasn't raised by my birth parents. My parental figure made it clear that "she didn't have to love me. I wasn't her child." Neither am I a parent myself.
The parent-child bond has eluded me all my life—and probably will continue to. However, I have witnessed parental love in action. It was beautiful and agonizing at the same time.
The purest kind of heavenly love the human heart can experience is the moment parents see their much-anticipated baby. We can gaze upon a newborn—born with a bent towards disobedience, rebellion, and self-centeredness—with indescribable and forgiving love. Then spend years raising them, watching over them, and instructing them through blood, sweat, and tears.
God feels the same about us. We are His children … His masterpieces. His love for us is indescribable, and His gaze is always on us. He teaches and instructs us in the way we should go. He comforts us in our sorrow and pours blood, sweat, and tears over us. The difference in earthly parental love and God's love is that God does not need us to love Him in return.
Regardless of what we've done to displease God, He still loves and accepts us as we are and continues to desire our love for Him. He has seen all we have done—the good and the bad—and remains by our side. He even made a way for us to come to Him through Jesus.
Perhaps you've never known the love of a parent or felt that parent-child bond and have an empty place in your heart—a deep void no human can fill. God can fill that crevasse. He has watched you all your life and knows how deep your hurt is.
Go to God with all you are. He will embrace you as a parent embraces their precious newborn child.
(Photo courtesy of pixabay.)
(For more devotions, visit Christian Devotions.)
---
---