Don?t be afraid; for see--I am bringing you good news of great joy for all the people. Luke 2:10 NRSV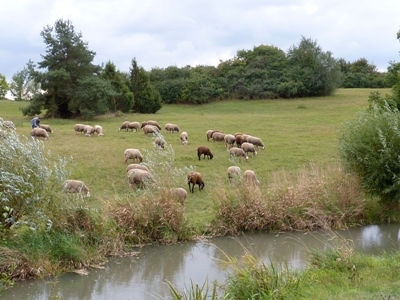 Most of the news we hear on TV or read in the newspapers causes us to feel overwhelmed. Wars, murders, abuse, and stories of people doing evil fill our hearts with dread. "Doesn't anything good ever happen?" we ask. I imagine the shepherds may have felt that way prior to hearing this special birth announcement.
Shepherds lived a hard life. Their work was dangerous. They were poor and weren't welcomed in most social situations of that culture. Yet, it's in this setting the first public announcement was made of the Messiah's birth. The angel of the Lord told them not to be afraid; he was bringing them good news of great joy. Initially overwhelmed by what happened, the shepherds' fear soon turned to great joy.
Forgetting all about the prejudices against them, the shepherds' joy was so great they went running to find the newborn baby. They were the ones spreading the news throughout the village to those who usually shunned them. Their joy gave them great courage. In fact, they were so filled with joy, they even returned to their mundane job as shepherds, still rejoicing over all they had seen and heard.
Often burdened by financial woes, rejection, and the dangers of evil in our world, we, too, can wonder if there is any good news. While we may not experience an angelic announcement, God speaks to us through His Word, our prayers, and the Christians around us. He sent a Savior so that we might all be filled with joy.
Friends, family, and people we don't even know, are waiting to hear the real story of Christmas. The joyous news of our Savior's birth is for "all the people," and it is our privilege to take that news out into a hurting world.
Are you willing to share it?
(Photo courtesy of morguefile and seemann.)
(For more devotions, visit www.christiandevotions.us.)
---
---