Therefore encourage one another and build each other up. 1 Thessalonians 5:11 NIV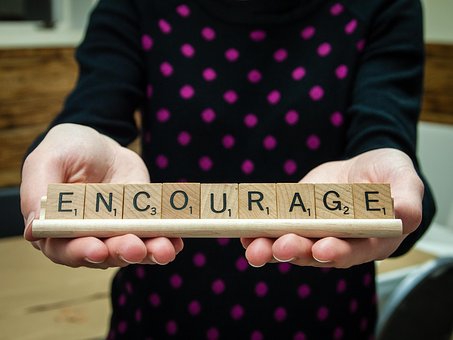 I spent several days each week staying with Lee.
My son-in-law suffered four strokes before undergoing a heart transplant. The strokes caused brain damage and other problems. He became an invalid and needed a caregiver while my daughter, Cathy, worked.
At times, staying with Lee frustrated me. He lost his temper and said things such as, "Go home, I don't like you, and leave me alone!" I realized that wasn't the real Lee speaking. He would never have said those things if not for the damage to his brain.
One day Lee surprised me by asking, "Do you like me?"
"Yes, Lee, I like you. Do you like me?" I asked.
"Yes, I like you. You're good to me."
Our conversation was an unexpected blessing, and I was thankful for the gift of encouragement.
It takes little time and effort to give encouragement to others, and Paul encourages us to do so. A comment to tired cashiers about their speed in scanning or their pleasant attitude can lift weary spirits. We are all capable of giving smiles to those we meet. Smiles are a great encouragement and highly contagious.
One day as I stood in line at a fast food restaurant, a cashier in training waited on me. She was slow and made mistakes. I noticed the responses from the customers waiting in line. "That's okay," I heard one man say. "Everyone has to start from the beginning."
I picked up my food tray and sat at a booth near where the cashier stood. Several times she apologized for mistakes, and each time the customers encouraged her with their replies. By the time I left, the employee had learned to relax and even laugh as she worked. How different her first day on the job would have been if customers had not been understanding.
God will guide us to those who need an unexpected blessing, and He will also give us the words and actions to bring it about.
Make it a point to encourage someone today.
(Photo courtesy of pixabay.)
(For more devotions, visit Christian Devotions.)
---
---