How then shall they call on Him in whom they have not believed? And how shall they believe in Him of whom they have not heard? And how shall they hear without a preacher? Romans 10: 14 NKJV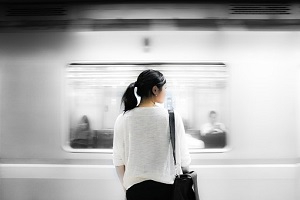 Subway commuters bustled on a steamy summer day in Buenos Aires, but one man stood out among the thousands in the jostling crowd.
Eyes half open, head tipped back slightly and carrying a white cane, he called out above the noise, "El vive!" (He's alive!) His outstretched hand offered a full-color leaflet to people who approached him. His smile and his voice caught my attention. Although I did not yet know Spanish, I made my way over to him and took a tract.
That evening a friend translated the story of how Jesus died on a cross and came back to life three days later to save us from our sins. Clearly this blind man could see and share truth. Could I? I wanted to try. Experienced tract-givers urged me to be cheerful and confident that I was offering something of great value.
Did you get one of these? Here you go! Here's something to read later! That's all I needed to say. In a crowded area, I didn't have to speak at all—I could just face the oncoming foot traffic, extend a tract, and smile.
These days, our family keeps an assortment of tracts in a basket by the front door for repairmen and delivery people. We insert tracts with bill payments. When travelling, we leave a generous tip inside a tract for our waitress or hotel housekeeper and also offer tracts to toll booth attendants when driving across country. Tracts in the car are handy when out and about locally.
Jesus said, "You will be my witnesses." An easy way to start is simply handing someone a thought-provoking gospel tract. I wonder what would happen if we all begin doing this? Imagine how many would read God's truth each day. A blind man clearly saw this amazing opportunity to witness.
What can you do to help spread the good news of God's love?
(Photo courtesy of pixabay.)
(For more devotions, visit Christian Devotions.)
---
---