He redeemed us in order that the blessing given to Abraham might come to the Gentiles through Christ Jesus, so that by faith we might receive the promise of the Spirit. Galatians 3:14 NIV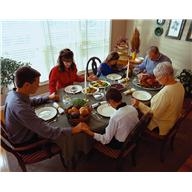 It's the season. The Hallmark channel entertains us with sweet Christmas stories that always end happily ever after. The Grinch even turns from his evil ways and realizes: "Christmas doesn't come from a store, maybe Christmas perhaps means a little bit more." Holiday music surrounds us, starting the day after Thanksgiving, as well as the enchanting array of sparkling lights and colorful decorations.
It's a happy time of year. We escape in the magic by decorating our homes, scenting the kitchen with the fragrance of gingerbread, shopping, and scattering the beautifully wrapped presents under the tree. We celebrate Christmas. Except when we can't. Except when our hearts are breaking. Except when the empty seat at the table reminds us that life is not happily ever after. This season brings me to such a time. Each day I sit by my beloved aunt's bedside as she lays dying. My heart breaks at the thought of my world without her. She's always been my rock. The keeper of my soul. Light in the darkness. My love for her knows no bounds. I sit and wait for a voice that can no longer speak. Her love, however, breaks through the chains of disease and she drinks me in through her beautiful blue-grey eyes. She blinks three times—our code for "I love you."
My beloved will be gone by Christmas. Her chair will be empty. Her laughter a memory. How can I possibly celebrate Christmas in a world without her kindness, love, and goodness? How can I celebrate Christmas? Turning from my grief, I ask myself: How can I NOT celebrate Christmas.
What is Christmas but the gift of our God, who so loved the world He gave His only Son so that we may have eternal life. My aunt will live because He lives. She will go from sickness to fullness of life eternally in heaven with her Savior. It is only when we experience life's traumas through the filter of the power of the Cross that we can truly celebrate Christmas.
The empty chair will still be at the table on Christmas day, but it will be a reminder of life—a life still lived with the Savior she served. My tears will come, but Oswald Chambers reminds us that tears are the diamonds of heaven.
His was the birth that saves. Because He lives, we can face tomorrow.
(Photo courtesy of office.microsoft.com.)
(For more devotions, visit www.christiandevotions.us.)
---
---