Therefore welcome one another as Christ has welcomed you, for the glory of God. Romans 15:7 ESV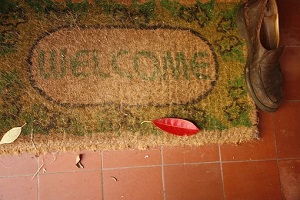 Few things are as nerve wracking as deciding if my presence is desired whenever I enter a new environment.
Whether it's visiting a new Sunday school class or a neighbor, I want to please people with my presence. I'm not saying they have to throw me a party or bake a cake, but a warm smile—along with sincere and friendly greetings—goes a long way on the welcome wagon.
When I travel, one of the things that determines how much I enjoy that place and will want to visit again is how friendly the people are and how welcomed I feel.
Therefore welcome one another as Christ has welcomed you, for the glory of God. I love the ESV's translation of this verse because it uses welcome where other translations use receive or accept. Jesus didn't just accept or receive me. He welcomed me. I picture Him throwing the door open wide and grabbing me up in a hug of pure joy, as if I were making a long overdue visit.
This verse instructs about our relationships with others. Jews should welcome Gentiles, and Gentiles the Jews. The strong should welcome the weak, and the weak the strong. The coffee lovers should welcome the tea drinkers, and the tea drinkers the coffee lovers. The contemporary worship music lovers should welcome the singers of old hymns, and the singers of old hymns the contemporary music lovers.
Sadly, some don't feel welcomed at church. Not knowing whether we're in place where we are wanted is nerve wracking. And a steeple on the roof or a cross on the wall doesn't communicate welcome. Their presence may testify that everyone should be welcomed, but they lack the ability to generate the feeling of being welcomed.
The word welcome makes me feel wanted, not just tolerated. It tells me someone is delighted to see me and that my presence brings joy. And that someone is Christ. God doesn't receive us begrudgingly into His kingdom; He welcomes us.
Let Jesus fling open wide the doors of your heart so you can welcome newcomers into your church, your neighborhood, your communities, and everywhere else.
(Photo courtesy of pixabay.)
(For more devotions, visit Christian Devotions.)
---
---