They are like a man building a house, who dug down deep and laid the foundation on rock. When a flood came, the torrent struck that house but could not shake it, because it was well built. Luke 6:48 NIV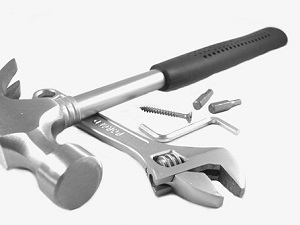 Everything we do in life needs a tool.
Tools make life easier, as well as improve the quality of life. I don't know much about traditional manly tools, but I can use a hammer, a screwdriver, and pliers if I have to. I'm better when it comes to kitchen tools.
When I painted, I had dozens of brushes and several knives. Each one did something different than the others. And paint. So many types and colors, but that was just the beginning. I combined them and discovered endless possibilities. Doing so took time and experimenting to find the right effect.
No matter what we're doing, we need the right tools to do the job right. Spiritually speaking, we need the right tools like the wise man if we want to have a strong foundation that cannot be shaken.
The first and foremost tool is the Bible. Building a strong foundation is impossible without God's Word—the go-to instructional manual for helping build the life God wants for us. If we dig deeper into the toolbox, we find prayer, meditation, the counsel of godly people, praise, worship, and thanksgiving.
Unused tools are worthless. Using them often leads to proficiency. When I painted, it took time and experimentation to find the right combination to create a beautiful picture. The same is true spiritually. What works for one person may not for another.
Work at building a foundation that can't be shaken.
(Photo courtesy of pixabay.)
(For more devotions, visit Christian Devotions.)
---
---